Starfield Smartwatch Leaves Gamers Optimistic

When it comes to physical merchandise, Bethesda hasn't had an exceptional track record in recent years. If you'll recall, their Fallout 76 "Power Armor" edition failed to impress customers when they delivered a cheap, nylon bag instead of the advertised rugged "military-style" canvas bag. The whole ordeal was just one of many unfortunate disappointments surrounding the launch of Fallout 76 and Bethesda had a bit of ground to make up with their next game. 
The studio is finally getting the opportunity to win back the hearts of gamers with the launch of Starfield and once again offering physical items in a pre-order bundle called the "Constellation Edition." The bundle has limited availability but can still be purchased for $299.99 at GameStop and includes the following:
Starfield Base Game
Shattered Space Story Expansion (upon release)
Up to 5 days early access*
Constellation Skin Pack: Equinox Laser Rifle, Spacesuit, Helmet and Boost Pack
Access to Starfield Digital Artbook & Original Soundtrack
Steelbook Display Case
Constellation Patch
Starfield Chronomark Watch and Case
Credit Stick with Laser-Etched Game Code
While gamers can't yet speak to the value of the game and in-game items due to embargo, it does seem like they're permitted to talk about their first impressions of the watch and case in the meantime, and the first impressions are pretty positive! The companion app for the watch is not out yet, so we can't quite see all that it's capable of, but the functionality seems to be pretty close to the in-game version so far.

In-Game Watch
The in-game version of the watch is given to you by an NPC and companion Barrett and serves many important purposes. It displays your stamina bar, which planet you're on, and displays the direction of nearby locations and points of interest. It also has a secondary view which displays environmental information such as the local temperature, the local oxygen level, and the gravitational force of the planet. 

Real-world Watch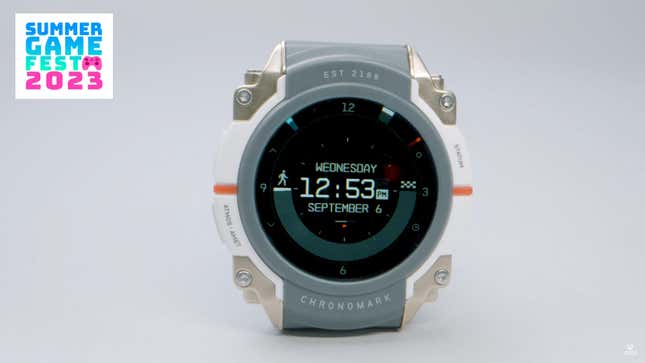 The real watch does a great job of replicating the aesthetic of the in-game watch, even if some of the features might not be needed for an earth-only existence. The watch connects to your device via Bluetooth (once the companion app is launched) but does not have a touchscreen. While that won't win any awards for innovation, it has helped ensure that the price and size remain reasonable. Without the companion app, we won't yet get a full idea of what it's capable of, but the watch's menu shows the option to view notifications, view the moon phase, use a torch (flashlight), control your music, and also comes with a buffet of functioning sensors including an accelerometer, barometer, temperature, and magnetometer. Bethesda has confirmed that the watch will work in real-time with your game, adding an extra level of immersion. 
It does feel like a nod at the Pip-Boy from the Fallout series, only much more space-like and refined. Physical collector's editions of the Pip-Boy have been made, and they do look fantastic, but the design doesn't quite lend itself to everyday use anyway. From the looks of it, this watch could take the place of an everyday watch without being overly distracting or immediately outing yourself as the office Bethesda fan. Although it is subtle, it's also still recognizable from the game and even suggests subtle hints of UI and icons players will see within the game. Reviews of the watch have been positive with people feeling like they have generally gotten their money's worth. Sure, you might be able to get a smartwatch with these functions for much cheaper, but this watch is more akin to an authentic collector's item that has real-world functionality than it is something that would be marketed for an everyday consumer to purchase.

Bonus Points For Extra Cool Packaging
Bethesda presented the watch and patch in an incredible case that was based on those used by actual Apollo astronauts. If you're not a box person, this might not be very interesting to you, but if you're an avid collector of boxes (for my trinkets!) as I am, you understand my excitement. The box opens with a latch that rotates metal rods out of their places. It gives the user a visual locking mechanism that feels very satisfying and space-y. It might not be a main selling point for everyone, but it certainly is for me.
It's no easy feat to win back a consumers trust, and gamers are understandably apprehensive when it comes Starfield. We can't base the quality of the game solely on the physical merchandise, but the attention to detail and smooth execution of the "Constellation Edition"  does show us that Bethesda has made sure to deliver on their promises the first time. Let's hope that the launch of Starfield goes just as smoothly!